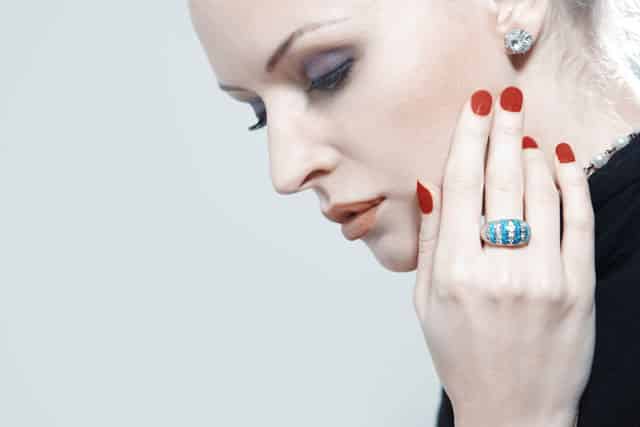 Did you know that Cleopatra favored emeralds above all gemstones? This does not come as a surprise since emeralds have been mined since 3500 B.C. in Egypt for their pharaohs. Charm and allure go with emerald rings because they command attention. Worn in the evening and on classy occasions, the deep, rich green color of an emerald creates a perfect ambiance of glamour.
Natural emerald rings, in particular, have come to symbolize enduring love and worn with great affection and revelry. They have different meanings for different people. To some, emeralds bring harmony to their relationships while to others the same gemstones strengthen faith. Other cultures consider emeralds a representative of fertility, new beginnings, wealth, peace, welcome changes, and prosperity.
The Best Source for Emeralds
The best emerald rings for sale are found in the South American country of Colombia where they are mined exclusively in locations such as Chivor, Coscuez, and Muso, deposits that were discovered originally as far back as the 1500s. The mines in Muzo are 100 kilometers of Bogota and visited from the city on unpaved roads.
There are several mines in Colombia especially for emeralds, and some deposits are not currently being utilized. The most famous locations are Muzo, Coscuez and Chivor. These deposits of emeralds were originally discovered in the 1500s. Prized among the ancient Incan empire's royalty, Colombia has been mining emeralds from antiquity. This country is considered to be the best source for emeralds by international gemologists.
Although Zambia and Brazil are known for rich emerald deposits as well, Colombia's emeralds are of the deepest green color with the finest clarity. Colombia produces 60% of the world's finest emeralds. One or times a year, Colombia manages to produce a few emeralds, "gota de aceite" or oil drop, that are more than two carats which can easily exceed the value of diamonds, sapphires or rubies for $30,000 a carat.
Why Go for Emerald Engagement Rings?
Because green is considered the most calming color of the color wheel, emeralds, with their green color, have come to denote healing, reflection, and balance. The rarity of this gemstone has also made it a unique, albeit less expensive, alternative to the ubiquitous engagement ring made of entirely of diamonds. Colored gemstones have replaced diamonds as the stone of choice for engagement rings.
But even before this recent trend, colored gemstones, especially emeralds, have been accepted as a unique take on traditional engagement rings. In 1953, renowned jeweler Van Cleef & Arpels designed a two-carat emerald ring with baguette diamonds around it for a junior senator from Massachusetts named John F. Kennedy who gave it to a certain Jacqueline Bouvier of New York City.
In a sea of diamond engagement rings, the emerald gemstone ring of the future 35th U.S. First Lady stood out interestingly as a one-of-a-kind piece of jewelry that countless women of that generation had copied for their own engagement rings. Academy Award-winning actress Halle Berry, on the other hand, sports a four-carat emerald engagement ring with Phoenician codes and has upped its estimated value of $200,000.
When an opportunity presents itself to wear one or two show-stopping genuine emerald rings, make sure that you make the most out of it because emeralds speak for themselves. Keep your wardrobe simple and sleek when wearing your emerald ring because it really is a statement kind of stone by itself and on its own. Here are other tips on how you can wear emerald gemstone rings with elegance and pizzazz.
Clothes that Go Well with Emeralds
Showcase your emeralds with clothing built along solid coloration and clean lines. Never wear "loud" ensembles with emeralds which can confuse the eyes and create a distraction from your overall look. Although black is the most ideal shade to bring out this gemstone's vibrancy, neutral tones such as beige, brown, ivory, gray, taupe, tan, and cream can complement an emerald's deep green shade.
Hair and Makeup
Less is more when it comes to the kind of makeup worn with emeralds. Keep one facial feature intensely made up and the rest in subtle shades. Smokey eyes, for instance, should go with a nude lipstick. Hair should be kept in the simplest of styles but with gloss and shine. Both these understatements help bring out the greatest features if an emerald. The point is not to let anything else surpass the stone's presence.
Small-scale Accessories
Emerald rings for women are standalone pieces of jewelry and do not really mix well with other gemstones without detracting from them. Since a ring is worn much lower on your body, small-scale accessories such as a plain metal pendant or neutral diamonds in stud earrings would be suitable to complement your overall look without detracting it from a bold piece like an emerald on your hand.
Wear a pendant in silver instead of gold to reflect the emerald's purity of color as well as enhance it. You can wear emerald rings over other emerald pieces of jewelry but always consider scale. A large green ring worn with a sizeable emerald necklace plus large emerald earrings would definitely be overkill. And because emeralds set in rings require the best of care, they are not really meant to be worn every day.
Caring for Your Emeralds
The less contact with emeralds, the better, primarily because they have small natural cracks which make them extremely vulnerable to shattering, breaking, and chipping. Emerald rings shouldn't be worn on your dominant hand to keep potential accidents to a minimum. You should neither apply hand or body lotion nor do any hand washing while wearing the ring since both actions will dull the emerald's color.
Put emerald rings on last after you have dressed, styled hair, and applied makeup on. Remember that even the smallest smudges and snags could do potential damage to your emeralds. Perfect to wear for formal occasions, emeralds, however, are risky to wear for anywhere else. Allowing them to sparkle and shine need not be a cause for you to worry about damaging them if you always consider where you will go with them.